IntelliCap® Automatic Capacitor Controls & Sensors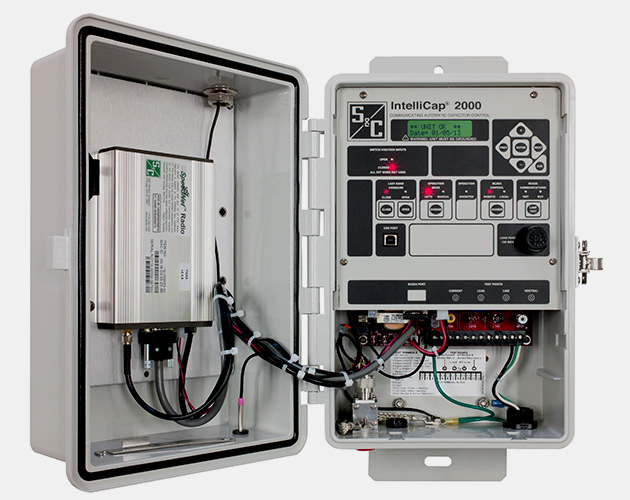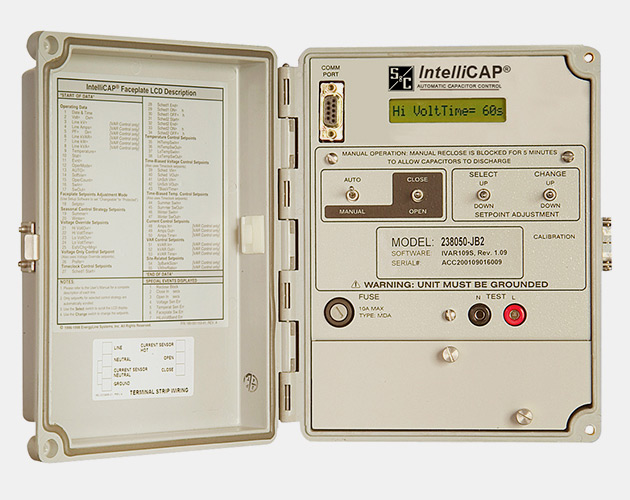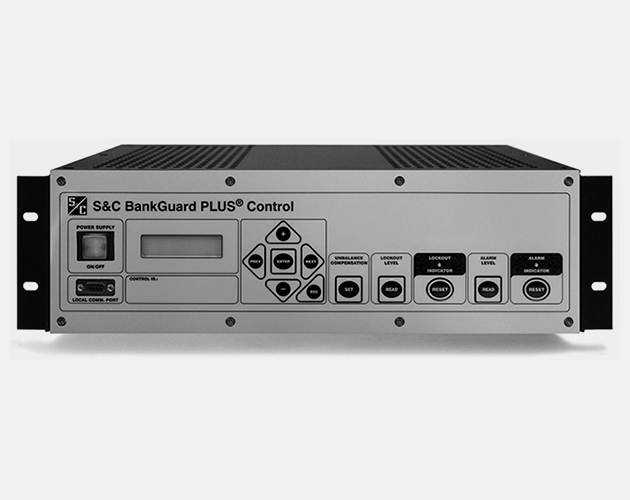 IntelliCap® Automatic Capacitor Controls & Sensors
The intelligent alternative to electromechanical capacitor controls
Specifically engineered for the control of pole-mounted and pad-mounted switched capacitor banks in electric distribution systems
Back to Top
Capacitor controls benefit utilities by reducing unused capacity, regulating voltage, monitoring line conditions, and protecting capacitor banks. S&C's capacitor control products offer you reliable, easy to use, and flexible ways to add effective automation to your system today. Optional neutral current/voltage sensing reports blown fuses and stuck switches, so your banks can always be productive.
IntelliCap 2000 Automatic Capacitor Controls are specifically designed to control pole-mounted and pad-mounted switched capacitor banks in electric distribution systems, to regulate reactive power or line voltage. These reliable, easy-to-use, microprocessor-based controls normally operate autonomously, based on the control strategy selected.
With a one-way communication device installed, an IntelliCap 2000 Control can also operate in response to switching commands from SCADA or other centralized control. With a two-way communication device installed, local status information and feeder data are additionally available remotely, and remote configuration is possible.
IntelliCap 2000 Controls are superior to other two-way communicating capacitor controls – which only operate in response to centralized control commands based on measurements at the substation. With the normal stand-alone operation of IntelliCap 2000 Controls:
A communication problem won't compromise VAR support,
A problem at one capacitor bank won't affect other capacitor banks,
Multiple contingencies are handled automatically, and
System changes and expansion don't require extensive reprogramming.

Fulfill Major Smart Grid Goals
With two-way-communication-equipped IntelliCap 2000 Controls, there's no need for your crews to periodically inspect each of your distribution capacitor banks. Any problems will be reported immediately. So you can be confident your capacitor banks are functioning properly.
Your T&D losses and O&M costs will be significantly decreased too, through asset optimization and heightened efficiency – major goals for the Smart Grid.
IntelliCap 2000 has high accuracy voltage and current inputs making it ideal for integration into advanced voltage optimization systems such as S&C's IntelliTeam® VV Volt-Var Optimization System.
Provide a Full Range of Automatic Functions
IntelliCap 2000 Controls offer a wide range of software-selectable functions, including:
Voltage, time, temperature, time-biased voltage, and time-biased temperature control strategies. VAR and current control strategies are optionally available.
Voltage/temperature and SCADA override strategies. When enabled, the control returns to its regular control strategy after receiving a SCADA command.
Automatic calculation of voltage change (and kVAR change, if applicable) due to capacitor bank switching.
Automatic adjustment for daylight savings time and holidays.
Daily limit on automatic switching operations.
Undervoltage and overvoltage protection.
Neutral input sensing is optionally available and can lock out the capacitor bank if blown fuses or stuck switch poles are detected.
Flexible Communication and Protocol Options
IntelliCap 2000 Controls are available with a variety of factory-installed communication devices, including:
MDS 9710A and TransNET 900 Radios,
Telemetric DNP-RTM GPRS Radios,
UtiliNet Series IV Radios, and
Dymec 5843SHRT and 5843HRT Fiber-Optic Modems.
They're also available "communication device ready" for user-furnished communication devices – including the ones listed above, plus radios and modems from AirLink, FreeWave, Motorola, Prosoft, RFI, and TeleDesign.
Protocol DNP 3.0.
Easy to Install
IntelliCap 2000 Controls are offered in a number of convenient mounting types: four-jaw electric meter base, six-jaw electric meter base, pole mounting bracket, and wall mounting bracket. Pre-wired plugs are available for bracket-mounted controls, eliminating the need for field wiring.
The compact, padlockable Lexan® enclosure with optional door position sensor, is strong, light-weight, and UV-stable, for years of reliable operation in harsh environments. The communication device – when furnished – conveniently mounts inside the enclosure door. The associated antenna can be mounted on top of the door or on the pole.
IntelliCap 2000 Controls accept a single-phase voltage signal from a voltage transformer, which is also used to derive control power. There is an optional voltage sensor input to allow power to be derived from a source other than the monitored source. Models with VAR and current control strategies additionally accept a single-phase current signal from an S&C CS Line Post Current Sensor or a current transformer. The neutral input sensing feature, when specified, accepts a signal from a voltage transformer, S&C Outdoor Voltage Sensor, Lindsey Voltage Sensor, or current sensor.
Easy to Set Up and Configure
IntelliCap 2000 Controls can connect to your PC with the USB faceplate connector or an optional WiFi module and run IntelliLink® Setup Software to view real-time data, manage set points, troubleshoot, and download historical reports. The faceplate includes test points for the sensor inputs and a manual override switch.
IntelliCap 2000 Controls supports remote firmware upgrades with IntelliLink® Remote Setup Software and a capable communication system such as S&C's SpeedNet radio. This optional software allows you to remotely access all your S&C Automation Products that communicate using DNP 3.0 Protocol, from any personal computer connected to the DNP network. You'll be able to configure controls, access historical and real-time data, and troubleshoot all the devices from a single location.
Extensive Data Access, Logging, and Graphing
IntelliCap 2000 Controls provide real-time access to true RMS line voltages and currents, kWs, kVAs, kVARs, power factor, temperature, and harmonics.
IntelliCap 2000 Controls offer extensive data logging and graphing capabilities too, for optimizing performance. A wide range of parameters are logged at the selected interval and can be downloaded as tables or graphs. They include:
Temperature, voltage, current, power factor, kVAR, kW, and neutral current/voltage (if applicable). Logging intervals can be adjusted from 1 to 60 minutes, for 2 to 120 days of voltage and temperature data.
Time and reason for the last 14 switching events, as well as the voltage (and VARs, if applicable) before and after bank switching. Date and time of the last 15 power outages.
Daily minimum and maximum voltages, temperatures, currents, kWs, kVARs, power factors, neutral currents/voltages (if applicable), and number of switching cycles in the last month and since installation.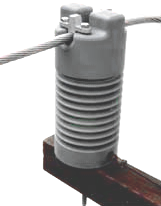 S&C CS Line Post Current Sensors and CSV Line-Post Current/Voltage Sensors provide an economical, effective way to measure current and voltage (optional) for your capacitor control and other applications. The CS/CSV Sensors are well-suited for working with our IntelliCap® or IntelliCap Plus® Automatic Capacitor Controls with VAR sensing. You can add current sensing to your system for a minimal cost, without sacrificing the accuracy you need.
Key features of the CS/CSV Sensors include:
No sensor calibration required
Hot stick installable
Accommodates conductors between 0.25" and 1.25" in diameter
Non-porcelain design
Available for 15 kV, 25 kV, or 35 kV systems.